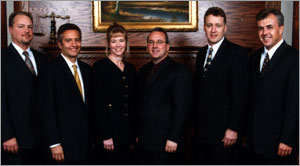 If you have suffered from injuries as the result of an accident, your good health and normal daily life are disrupted. As you try to cope with injuries and adjust to disability, your family is also affected.
Lost wages and medical bills add to your emotional stress. To make matters worse, the insurance adjuster will probably try to downplay the extent of your injuries and in some cases, offer very little money to settle your claims. You will be faced with questions and decisions.
The experienced personal injury attorneys at the Law Offices of Thomas J. Popovich, P.C. understand the problems you are facing and are ready to help. Our practice focuses exclusively in plaintiff's personal injury and medical malpractice law.
We believe your first priority is to regain your health, not to worry about medical bills and lost wages. Our attorneys evaluate your situation and explain your rights, allowing you to make informed decisions. While you concentrate on mending your health, we pursue legal remedies, resolve disputes with insurance companies and claims representatives and deal with the complexities of civil litigation.
At the Law Offices of Thomas J. Popovich, P.C. we are committed to aggressively protecting your legal rights.
Over 80 years of collective experience enables our attorneys to successfully and efficiently litigate injury cases. Our law firm's expertise in civil litigation includes trial practice, arbitration and mediation of personal injury cases.
If you have been injured by the negligence of another, our personal injury attorneys can answer your questions, help with decisions and pursue recovery of the compensation you and your family deserve.
At the Law Offices of Thomas J. Popovich, P.C. our attorneys are licensed to practice in Illinois, Wisconsin and Indiana. If you need immediate assistance, or would like to schedule a consultation, please call our office at 815-344-3797 to arrange an appointment.
Free Initial Consultation
No Recovery / No Fee
Home/Hospital visits available
Evening/Weekend appointments available